Americas Lightpaths, AmLight, enables research and education amongst the people of the Americas. The enablement is through the operation of production infrastructure for communication and collaboration between the U.S. and Western Hemisphere science and engineering research and education communities. 
Read more…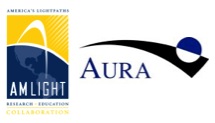 FIU awarded for AMLIGHT to provide an Advanced International Network for the Large Synoptic Survey Telescope (LSST) through 2031. 
Read More…
vassi
The Center for Internet Augmented Research and Assessment (CIARA) at Florida International University's Modesto Maidique […]
vassi
The LSST2015 Project and Community Workshop will take place the week of August 17, 2015 […]
vassi
Dr. Julio Ibarra and Dr. Heidi Morgan participated in session  "Operational aspects of SDN" at […]
The AmLight project is made possible through the funding support of the National Science Foundation (award# OCI-0963053), the Academic Network of Sao Paulo (grant# 2008/52885-8), The Association of Universities for Research in Astronomy (AURA), Rede Nacional de Ensino e Pesquisa (RNP), Florida International University, the Corporation for Education Network Initiatives in California (CENIC), and the Lonestar Education and Research Network (LEARN). Full list of partners here.